A sector report about Germany's industrial heartland North Rhine-Westphalia
The industrial revolution transformed Germany in the late 18th century from a predominately agrarian society into the economic powerhouse in Europe. The seed for this rapid metamorphosis was planted in the coal rich regions of the Ruhr and Rhine, modern North Rhine-Westphalia. Till this day, the landscape of NRW is dominated by its industrial history. Facing ever stiffer competition globally as well as further challenges, NRW is determined to revolutionize and vitalize its industry, actively placing itself at the forefront of technological innovation for industrial solutions.
Facts & Figures
Today, with its nearly 18 million inhabitants, nearly one in five people of workforce, roughly 1.2 million people, in NRW is currently working in the industrial sector, mainly as mechanical engineers. In 2020, the industry generated roughly 320 billion euros in sales alone. That is 18% of Germany's industrial sales concentrated solely in one single state. Furthermore, with its 710,000 SMEs, the German "Mittelstand" is still the backbone of the region's economic force, contributing to more than 20% of Germany's GDP. In addition, one in four market champions or hidden champion is at home in NRW, which further underscores the state's economic strength.
But besides the classical industry actors and fields, NRW is also home to innovation which is greatly appreciated by the local industry. For instance, already 25,000 ICT companies have settled in NRW, generating nearly a third of all ICT generated revenue in Germany, totaling over 103 billion euros. Going even beyond that, NRW has already attracted 20% of all startups active in Germany, supplying even more radical innovation to the local industry, allowing local businesses to fully harness the practical insights and modernizations associated with the startup scene.
One example of such radical innovation is the nano-technology sector. Already 22% of Germany's nanotech firms have set-up a business in NRW as well as 28% of all microsystems and technology companies.
Pioneering Germany's Industry 4.0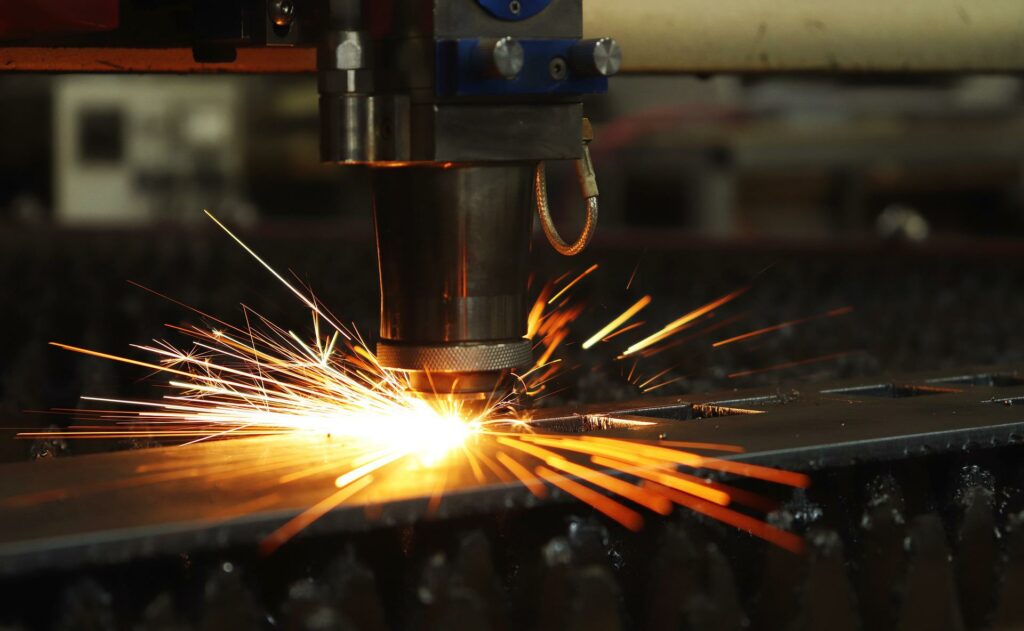 NRW is offering immense opportunities for any company and startup that is seeking to contribute to innovative industrial solutions and making the fourth industrial revolution not only a reality but also a success story. Being the industrial core of the continent and Germany, NRW is home to a truly broad industrial customer base from chemistry to machine manufacturing to electronics and electrotechnology, NRW has it all. Hence, there will be a niche for everyone to drive forward and build up owns company. Going even beyond the potential German industrial customer base in NRW, the state also offers quick access to over 160 million people in 500km radius, possessing roughly 3.5 billion euros in purchasing power.
In addition to its industrial advantages, NRW has plenty more to offer such as its leading research and education institutions. The former provide the perfect fertile ground for young and innovative companies to test and further improve their ideas, benefiting from the exchange between academic insights and practical needs and applications. These research institutions include, above all, the Fraunhofer Institutes such as Fraunhofer FIT or the Centrum Industrial IT (CIIT e. V.). Currently, there are over 780,000 students in NRW, studying at one of the 68 universities in the region such as the TU Dortmund, Ruhr University of Bochum or the RWTH Aachen. Roughly 27% of these students are attending classes and programs at technical colleges, guaranteeing a talented and well-educated workforce. Thus, it is little to no surprise that NRW is already leading in language modes research and quantum machine learning. Going even further, NRW is soon to be the home to Europe's fastest computer, based on exascale computing, enabling faster and more accurate processing and numerous applications for forecasting models.
Pushing and facilitating the transformation of its industry and cities in the digital age, NRW is keen on rolling out flagships and other initiatives to foster innovation. One player in the region that is dedicated to harnessing the advancement of artificial intelligence is KI.NRW. Working together with local stakeholders from politics to civil society, companies, and academia, KI.NRW is actively applying AI. One such program is the application of AI to hospitals or mobility, transforming not only the industries, but also creating smart cities.
Ecosystem Industrial Solutions
To foster innovation and to provide startups with a suitable growth environment, NRW has launched many clusters and hubs to improve the region for young entrepreneurs. Some of these hubs are the DigitalHUB Aachen, Digihub Düsseldorf or the digital Hub münsterLand. All of which are dedicated to help young companies to network and provide access to key stakeholders in the region. Next to the hubs are the clusters. Based on the industry and technology, these clusters can vary. For instance, the blockchain technology has four distinct clusters in NRW, one in Aachen, due to the RWTH Aachen as well as in the cities of Dortmund, Essen, Cologne and Bonn. One player and facilitator on blockchain is the Blockchain Reallabor, building up a European blockchain institute in NRW to conduct research and practical application for the technology in the industry and logistics.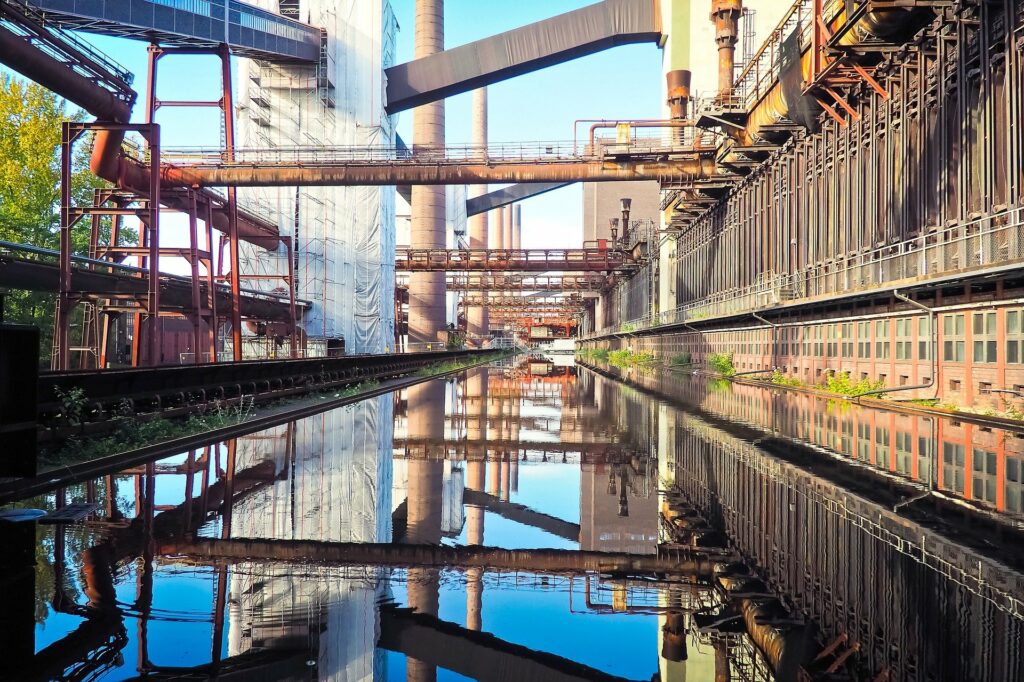 Another prime example of the great ecosystem are the co-operations between businesses and research in the state is the technology network "it's OWL" (focusing on the region of Ostwestfalen-Lippe). Founded by government support as a technology network in 2012, "it's OWL" has realized over 47 projects worth 100 million euros already and is currently planning to double the funding to 200 million euros over the next rounds of projects. One flagship project is the building of a smart factory with the Fraunhofer IOSB-INA, allowing for the testing of automatization and digital applications to the production processes. In its next round of projects, the "it's OWL" is dedicated to further explore the potential for AI in optimizing and enhancing industrial manufacturing. These factors have greatly contributed to settling advanced industries and innovators in NRW. Furthermore, Dortmund, one of the urban centers of NRW, has been transformed to Europe's biggest micro-tech cluster, employing over 2,200 employees among 40 companies in the industrial sector.
Trusted Partners
For any company, but especially for international ones seeking to expand or settle in new markets, reliable partners are key. Luckily, NRW provides such networks of great partners, sharing their access, resources, and insights with their respective networks. In the area of funding, NRW's most trusted source of finance is the NRW.BANK, providing low-interest loans to both startups and SMEs north of 10 million euros as well as seeding capital for young founders. One dedicated program by the NRW.BANK is the "NRW.BANK.Digitalisierung und Innovation" program. As previously mentioned, one key partner is the "it's OWL" in the industrial solutions sector, raising their funding capacity up to 200 million euros for future projects. Another source of funding, although at a smaller rate offers the "regional economic promotion" programs (RWP) in NRW, seeking to vitalize urban economies by allocating cash grants to businesses. Other partners are also participating in the Start.up! Germany Tour such as NRW.Global Business, the federal investment agency of the state. Or the Institute for Digital Future Technologies e.V., seeking to raise awareness and provide key access to an extensive network of potential customers and partners in NRW. And last but most certainly not least, there is the network of local chambers of industry and commerce (IHK) in Germany. The chambers, such as the ones organizing and participating in the tour are vital business partners in Germany, offering a wide array of services and advice for their local businesses, reaching even to the political centers in Berlin and Brussels.
If you want to hear more about this excting sector feel free to rewatch our corresponding webinar here:
Back to overview